You will still have many choices to choose from, but now you need to be more careful. Take your time to explore and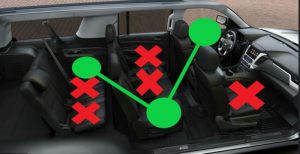 compare all of them. In the end, you will realize that the safest way to travel to Chicago is by using a good limo service company. What you need is a private transfer in a clean and disinfected car with professional chauffeur. Avoid the dirty taxis, crowded trains and the ride share. With a reliable long-distance limo service, you can even avoid the risky airlines. Chief Chicago Limo will drive thousands of miles for you as long as the PU or DO is in the Chicago area.
Is It Safe To Travel To Chicago Right Now?
Things will never be the same. At least for quite a while. Times are tough and the main culprit is the Coronavirus (COVID19). Millions got sick and many passed away. The current pandemic scared us all and governments around the world shut down travel. Many people work from home, while others lost their jobs. Death and financial crisis is all over the globe. That will definitely leave scars in our lives. However, that cannot continue forever. We will start recovering slow by slow. Travel will resume soon and people will start moving again from point A to point B.
Chicago is a busy city and relies on travel to function properly. Currently it is one of the cities with highest number of sick and dead COVID19 patients. The local government increased the stay-at-home shutdown with an extra month. But things are coming to an end and the city will soon open for business. We believe that you can travel safely to Chicago despite the Coronavirus. And we recommend our limo service for that purpose. Take the necessary measures and you will be alright.
Why A Limo Service Is The Safest Way To Travel In Chicago

With the COVID19 shutdown coming to an end, Chicago limo services are getting ready to go back to work again. Actually, some of them. A few could not make it, unfortunately. This situation definitely changed our lives and months ahead we will live in fear that it might happen again.
Chief Chicago Limo is offering some post- Coronavirus measures drivers-for-hire can take to stop the virus from spreading. Many of these COVID19 precautions should have been used from the limo companies long before the pandemic. Those measures are actually the new rule, code of ethics, standard policy-call it whatever you like. They ensure you are getting the safest way to travel to Chicago. They may even stay after the whole pandemic chaos is over.
By booking our Chicago limo service, you get a private ride eliminating the possibility of riding with strangers. That, itself should make it the safest way to travel to Chicago. Next, your car will be cleaned and disinfected for you. That will save you any contact with contaminated surfaces. You will travel in a safe and sanitized environment.
A limo service involves management, drivers and clients. That's why we will divide the responsibilities not only between the owners and the drivers of the limo companies, but also and between their clients. Only then, we can achieve good results and protect everyone's health and well-being. Such kind of coordination and teamwork helped us retain the pandemic. Humanity realized that preventing the spread of the disease is a complex process which involves everyone. Governments, citizens, firs respondents, countries, neighbors- everyone has to do their share.
Owners' Part In Providing You With Safe Travel To Chicago

In order to provide you with the safest way to travel to Chicago, owners must strictly enforce the new rules to all the levels in their organization. They have to monitor the situation daily and punish every mistake.
Everything starts from the owner of a limo company. He/she is on top of the pyramid and everyone should follow. Owners should continually monitor updates from the World Health Organization and US Centers for Disease Control and Prevention. They should also be aware of any state and local governments' updates about the virus. Limo owners should create recommendations and turn them into policies and procedures. They must make sure everyone in the company and its clients know about them. It's lives at stake and the bosses must fire anyone who does not take seriously those new rules. Make your drivers read them and sign a document that they agree to apply them on the job.
Owners must constantly monitor the process, develop disinfection strategies, employee and client protection and emergency plans. They must be strict and show no mercy at people who do not stick to the new guidelines.
Drivers are next. They have their boots on the ground and see things management does not. Owners should discuss things with their drivers. On the other hand, dispatch can follow up with clients if chauffeurs wore masks, if cars were clean. This way they will make sure that limo drivers follow the rules. Owners can request from the dispatch team those reports and ensure themselves that everything is under control. This way, everyone double checks on the responsibility of the next level of the pyramid.
Drivers' Part In Stopping The Spread Of The Coronavirus
Chauffeurs should monitor their health and body temperature. If they feel symptomatic, they should call in sick and notify the dispatch ASAP. They should wear clean clothes every day and wash uniform at the end of every shift. Limo drivers should have safer-places where they can gas up or use a toilet. Those small details must be discussed and decided with the management. Often chauffeurs know more about the road environment than the office employees.
Limo drivers are the ones exposed to possible contact with the virus. They have the hard job to clean/disinfect the vehicle and maintain good hygiene practices. It sounds so easy, but it's actually a tough assignment considering their wide exposure to germs. Chauffeurs must sanitize hands before entering the limo. After gas stops, restrooms, lunch, meeting people, etc, hands should be clean when you touch your car. Clean your hands after you touch clients' belongings and luggage, after exchanging money, after blowing your nose, coughing or sneezing. As you can see there are many reasons to sanitize your hands and limo drivers have to make it a habit. Management should also constantly talk about that procedure and educate their employees.
Drivers should keep social distance, wear face masks and less converse with clients. They should constantly communicate with upper management any strange situations. A good idea is to keep a log book of things they did between the trips. For example, which public restroom they visited, where they had lunch, put gas or whom they met with.
Passengers' Obligations To Stop The Spread Of Coronavirus
It does not matter what a limo company does to protect you, if you, the passenger, do not take measures for your own health. The best and most important thing to do before you travel is check your health. If you notice any symptoms, cancel your trip. Clients should follow same social distancing rules as their limo drivers. They should wear their own masks. Do whatever your chauffeur tells you. For example, our clients MUST sanitize their hands before they can get inside the limo. Passengers should not shake hands with anyone during their travel. Every limousine and car service company in Chicago has a different policy during the Coronavirus. Just get familiar with it before riding.
Only when owners, chauffeurs and clients work together, they can stop the spread of the Coronavirus.
Chief Chicago Limo Tips On How To Clean Limo Rentals

Even before the COVID19, we always used to pay great attention to the cleanliness of our limo rentals. Now, it's just a bit stricter and detailed process which takes more time. In order to try to stop the spread of the Coronavirus, we plan the trips with at least 2-3 hours gaps between them.
At the start and end of a shift, and before each ride, our professional chauffeurs clean and disinfect their vehicles and equipment. They use disinfecting wipes/supplies to routinely clean all frequently touched surfaces.
Exterior wash is performed at car washes, but chauffeurs also take part in it. After stopping at gas stations they clean the gas tank cap, and the door handles. They do the handles one more time before picking up the clients. Cars can be washed a few times a day to get rid of dust and possible germs.
Interior wash is very important and its done solely by our chauffeurs. We can not allow strangers to have access to the seating compartment. This way, we reduce the risk of spreading the virus. Some of the areas are more frequently touched than others and they require more cleaning. Keys and the steering wheel are risky zones for the chauffeurs. All buttons on the dashboard might have germs from outside. Radio, A/C and windows regulators are also being used often. Door handles (inside/out), seat belt buckle areas, charging plugs needs to be thoroughly disinfected. Before each ride, drivers MUST also clean the inside of the windows.
Chief Chicago Limo provides EPA-registered, antimicrobial products and hand sanitizers (at least 60% alcohol) to both drivers and clients in vehicles.
Book With Us
Whenever you think is safe to travel to Chicago, book online our services and we will take care of you! Chief Chicago Limo is one of the safest way to travel to Chicago!