Click Here For Instant Rates Or Fill Out The Form Below
Limo Service Milwaukee WI
Book online the Milwaukee Limo Service and travel in style between Chicago and Milwaukee. We noticed that the demand for transportation between Illinois and Wisconsin is growing. Our business model is to always adjust to the current trends. That strategy helps us to stay competitive. On top of our Chicago Limo Service, Chief Chicago Limo now proudly covers and the state of Wisconsin. We respect the local Milwaukee limo services and their territory. That's why we only execute trips to and from Wisconsin , and not within the borders of the state.
Check out the affordable rates of our Milwaukee Limo Service by filling out the booking form below. Professional chauffeurs and luxury fleet for less. If you still want to pay less for your Milwaukee limo rental, check our cheap offer.
Limo Service Milwaukee To Chicago
Clients can now book online limo service from Milwaukee to O'Hare airport. That's the most popular route for us. When you book our ORD limo service, you get the ultimate experience. Your chauffeur will show up on time, assist you with luggage and open doors for you. During the longer ride, you can relax or focus on your business. We know our way around and we monitor traffic. On your way back, the system tracks your flight and we always adjust accordingly. Upon landing you will receive a text from us guiding you through your pick up.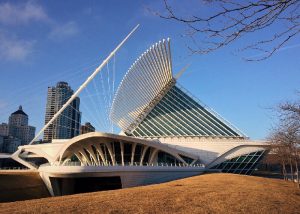 Same perks are available when you reserve our black car service from Milwaukee to Chicago Midway airport. Our Chicago airport transfers are some of the best in the industry.
Explore the Windy City with our limo service Milwaukee to Chicago. Locals and guests travel between the two cities everyday. Book with us and enjoy the ride. Business people and visitors get the same high quality of service. Trust us with your ground transportation needs.
Milwaukee Limo Service Rates
As we mentioned earlier, our Chicago limo rentals are quite affordable. Rates are all inclusive and they start from $170. That's a rate for sedan to ORD airport from Milwaukee WI 53202. If you live closer to O'hare your rate will be lower, and vice versa. Prices vary based on distance, exact address and vehicle type. For exact quote, please fill out the form below. You will pay what you see. No hidden fees or surges. We invested in technology so you enjoy better rates and service.
Distance and Travel Time
Milwaukee WI is 80 miles from ORD airport, around 100 miles from MDW airport and Downtown Chicago. Travel is 95 and 120 minutes respectively. the drive to O'hare international airport is almost always easy. However that is not the case with Midway and the Loop. Once you cross that ORD parallel things can go downhill. South and southeast from O'hare, traffic is often heavy. You should leave some time buffer if you are flying out of Midway or have an event to attend in Chicago.
About Milwaukee WI
Milwaukee is the largest city in Wisconsin. The city has many historical and cultural attractions. It's also known for its beers and baseball. Situated along Lake Michigan, Milwaukee is a beautiful place to visit. A must-see is the Art museum and its architecture. The Harley Davidson museum attracts bikers from all over the world. Lots of fairs and festivals take place in the area. For more information please visit:
https://www.visitmilwaukee.org/
Chief Chicago Limo- The Best Chicago Limo Service
We are a top rated Chicago Limo Service company, aiming to provide you the best Milwaukee Limo Service. Some of our happy clients have left us hundreds of 5-star reviews on TripAdvisor and Google. We sell you luxury and comfort at very reasonable rates. Our vehicle are the same that every other limo company has. However our chauffeurs are some of the best in the business. We believe that the chauffeur is the one who makes or breaks a business like ours. That's why we pick only the best. Each of them is very professional and at the same time naturally friendly and caring. Trust us with your next trips to and from Wisconsin and you will not be sorry.
Chief Chicago Limo also covers the rest of Wisconsin. We will drive you anywhere you like to go, as long as your trips starts or ends in the Greater Chicago Area. Our limo services spread to Iowa, Michigan, Indiana, Ohio, even California and New York. Ask us for the long distance limo service we offer.
We are looking forward to driving you soon!