Chicago Private Jet Limo Service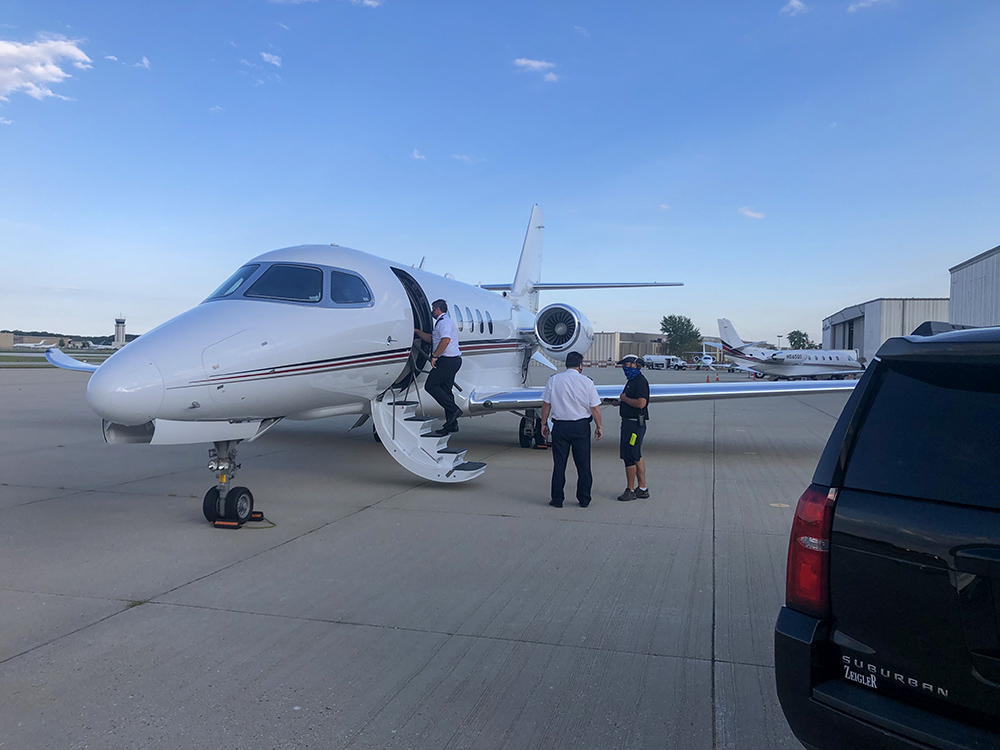 Chicago Private Jet Limo Service is an upscale ground transportation to and from all Chicago private airports. We provide luxury and efficient Chicago FBO black car service. Using a private plane charter to and from Chicago is getting more and more popular. Chief Chicago Limo is staying up-to-date by following closely the trends in private aviation. Get to your private airport with our latest model vehicles and professional chauffeurs .
Let your upscale travel starts and ends with our limousine and car service Chicago!
Benefits Of Private Jet Charter Chicago
Clients who book private jets to and from Chicago enjoy elevated flying experience. It's a luxury and comfort in the air. They save time and travel seamlessly. The flexibility of a jet let's you travel on your own time schedule. You will avoid the uncomfortable commercial airlines and the long, unpleasant check-in lines.
With any plane, comes the need for a car. Whether you are using Chicago Private Jet Charter for business or pleasure, we are there for you. For years, Chief Chicago Limo has been providing limo and car service to all major Chicago private airports, FBOs (Fixed Base Operator).
How Much Is The Private Jet Chicago Limo Service
We will explain our pricing on limo rentals to and from the Chicago private airports. People book private jet because they like to have open schedule. Due to the flexibility of this service, Chief Chicago Limo has three options to reserve our private jet limo service. To play with routes and rates, you can fill out our booking tool above or click here.
Book Point-To-Point service type. In order to book this option, your tail number must be traceable and we need to be updated about your actual take-off time or any delays in your schedule. It's available for the Private airports near O'Hare, Midway, Wheeling and Waukegan. The rest of the Chicago private jet airports must be booked Hourly.
Hourly. This service starts from 2 Hours. Hourly limo service to and from Chicago's private airports is for all those private jets which tail numbers are hidden from the trackers. Some clients prefer to fly under the radar- top level executives and VIPs. In this case, your limo rental will be at the Chicago Private Airport at the time you request and our Hourly Limo Service will start then.
Cash is King. We also offer a cheap limo service where you can pay cash. Text us at +18474544183 to give you a quote.
Private Airports in Chicago
Chicago has a lot of private airports and we provide limo and car services to all of them. Some of the most popular are: Signature Flight Support ORD , Signature Flight Support PWK, Signature Flight Support Chicago Midway, Atlantic Aviation Midway, Chicago Executive Airport, Atlantic Aviation PWK, DuPage Airport, Waukegan National Airport, Gary Chicago Airport, Aurora Municipal Airport, Bolingbrook Airport.
Why Book With Us
We have experience with Chicago private jet airport limo service and we will make your travel easy and smooth. Our only goal is to deliver high quality of service. We have hundreds of happy clients who left us reviews on Google and TripAdvisor. Rates are smart and affordable. It's easy to get a quote and book online.
Besides the Chicago Private Airports limo service, we also offer General Aviation transportation to and from ORD and MDW. Chief Chicago Limo will go thousands of miles to pick you or drop you as long as the trip starts or ends in Chicago.
We will be excited to have you on board next time you are in Chicago!