Wisconsin Limo Service To And From Chicago
By booking our Wisconsin Limo Service, clients can now travel in style between Wisconsin and Chicago, and its airports. We will drive to any city in Wisconsin, as long as the pick up or drop off is in Chicago. Our Wisconsin limo rentals are luxury vehicles at affordable rates. Get instant quote and book a limo service to Wisconsin when you fill out the booking tool below. Some of our most popular services are Beloit Limo Service, Madison Limo Service, Milwaukee Limo Service, Kenosha Limo Service. Rest of the areas we cover in Wisconsin you can find at the end of this page.
Best Way To Get From Chicago To Wisconsin
There are many ways to get from Chicago to Wisconsin. You can travel by bus or train, use Rideshare or taxis. However, if you like luxury experience and privacy, we are your best choice. New fleet and professional and licensed chauffeurs is what you will get. Relax and enjoy the ride. The most popular routes are Wisconsin to O'Hare and Wisconsin to Chicago. The limo service to O'Hare airport from Wisconsin is the most frequently booked one.
Many Wisconsin residents fly in and out of O'Hare airport which is one of the busiest airport in the world. It is more convenient to book a limo to O'Hare than use other means of transportation.  By the time you get to MKE, let's say, and board and fly to Chicago O'hare airport, you will be already taken care by us. It is also cheaper to book our Wisconsin limo service to O'hare or Midway than flying. Especially if you are more than one passenger. Try our Chicago airport limo service and you will see how easy and affordable it is.
We also offer a limo service from Downtown Chicago to Wisconsin and from Wisconsin to Downtown Chicago. Our black car service will deliver you to your destination in style and comfort.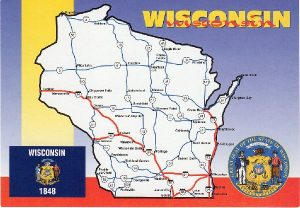 Why Chose Us
Chief Chicago Limo is always about making clients happy and satisfied with our limo services in Chicago, and our chauffeurs are some of the most professional and friendliest in the industry.
Our online booking tool let's you see all the rates and vehicles available and place a reservation in a minute. Create an account during the booking process and you ll be able to unleash the perks of our system- add addresses, book for others, track expenses, change reservation or cancel them in the proper time frame.
Let our Chicago limo chauffeurs give you a limo ride to and from Wisconsin, while you are relaxing or focusing on your business. For your Wisconsin limo service you can choose sedan, SUV, stretch or a Van.
Looking forward to having you on board on your next trip to and from Wisconsin!