Click Here For Instant Michigan Limousine Service Rates Or Fill Out The Form Below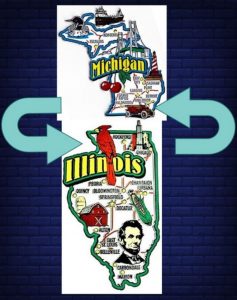 Clients can now book online our Michigan Limousine Service to travel in style and comfort to and from O'Hare airport, Midway and Chicago. Chief Chicago Limo is constantly expanding its service areas. Now we cover all the neighboring states with our long distance limo service. We offer luxury car service to and from Michigan at affordable rates. Our license only allows us to execute trips starting or ending in Illinois. For local rides please contact a Michigan limo service company.
Some of our most popular routes are the limo services to Detroit, Ann Arbor, Kalamazoo, Grand Rapids, Lansing and Saginaw. You can also reserve a car service to Flint, Traverse City, New Buffalo and Saugatuck. If you do not find your city on our page, we do serve it and you can retrieve an exact quote.
To get instant rates and book our Michigan limo and car service, please fill out the booking tool below with your trip's details. Select the right service type and click on "Select Vehicle". You will see multiple options for your route and book the limo rental which meets your needs. All our fleet is up-to-date and our chauffeurs are some of the best in the industry.
Chicago To Michigan Limo Service
Chief Chicago Limo offers a limousine service in Michigan for those who need to travel to and from Chicago. Whether you need a limo fro business or leisure, we got you covered. Our fleet consists of sedans, suvs, stretch limousines, S Class or 7 series BMW and Mercedes Sprinter vans. We can accommodate up to 13 passengers in one vehicle. Let us do the driving while you prepare for your business meeting or enjoy your special moment. The most often destinations in Chicago are hotels, offices and sports venues. Clients often book our limo service to Wrigley Field, Soldier Field and United Center. Consider us also for your special events- weddings and corporate outings. If you are not staying for the night in the city, we will wait for you and bring you back home.
When you need a limo service from Michigan to Chicago, choose service type point-to-point and we will take care of the rest. If you know your exact pick up time on the way back, just book a round trip. When your schedule is flexible or you need the car while in Chicago, we will give you a very good inner city hourly rate. Any special request, please type them in the comment section. Our Michigan to Chicago car service is the best you can get.
Limo Service From Michigan To O'Hare Airport
We offer premium airport transportation from Michigan to Chicago O'Hare airport, Midway and all private FBOs in the Windy City. Book our reliable O'Hare Midway limousine and car services and rest assured that everything will be alright. We are a top rated Chicago limo company which decided to bring its reliable service to guests and residents of the state of Michigan.
When you book a limo to O'Hare or car service to Midway, choose service type "To/From Airport". As soon as you place online request for Chicago airport transfer, we will review it and email you a confirmation. On the day of your trip, we will text you with you your ride's details. Your chauffeur will also update you on his/her ETA. We are always on time, anytime. Due to our location, we are very flexible for trips from O'Hare to Michigan. On the other side, when you need a limo service from Michigan to O'Hare airport (ORD), please schedule in a good advance so we have time to react. It's a longer ride and we need to make sure your chauffeur is well rested and fresh for your trip.
O'Hare airport is one of the busiest in the world and if you are not familiar with it, getting in and out might be a hassle. Though, we are know for our easy curbside pick ups from ORD, you may want to upgrade to the Meet and Greet service. By doing that, your limo driver will meet you inside the terminal with your name on a sign. He/she will help you with luggage and walk you to your Michigan limo rental.
Distance And Travel Time
Distance and travel time between Michigan and Chicago depends on your pick up and drop off points. For example a ride from ORD to New Buffalo, MI is around 1.5 hours, while trips to south east Michigan( e.g. Detroit) can easy go to 4.5 hours. Travel time is also affected by traffic, road construction and weather conditions. That's why we always advise to leave enough buffer time so you do not miss your flight or special event.
Do not worry! We always pay extra attention to out of state trips and monitor the traffic. In case conditions change and travel time suddenly increases, we will reach out to you.
How Much Is Your Michigan Limousine And Car Service
Prices also vary based on your destinations. For example a cash sedan limo from O'Hare to Kalamazoo, MI is $332. When you charge your credit card will be $377. SUV limo service from O'Hare to Detroit, MI will be $629 and $734 respectively. As you can see rates vary based on distance, vehicle type and payment options. We cover thousands of zip codes and is impossible to list all our rates here.
However, you can get an exact, flat rate when you fill out the booking form above. All prices are all inclusive, meaning that you pay what you see unless you change the route of your trip. Our state of the art reservation tool allows to retrieve instant quote in less that 30 seconds. Save money, headache and lengthy phone calls with us. In addition to that, we will have more time to focus on delivering the great service you deserve.
Why Book With Us
We know you have many options for transportation between Michigan and Chicago and we will be extremely glad if you choose us. We offer you easy to book Michigan Limo Service. Our budget-friendly rates let you travel in luxury and style without having to break your bank anymore. We have hundreds of 5-star reviews from some of our happy clients. We also create long-term relations with our patrons and we try to get to know you so you receive customized experience when you ride with us.
Chief Chicago Limo is looking forward to driving you to and from Michigan soon!