Burr Ridge Limo Service
Clients can now book our Burr Ridge Limo Service to and from O'Hare, Midway and Chicago. Chief Chicago Limo provides the best car service to Burr Ridge IL. Our luxury Burr Ridge limo rentals are available 24/4. Professional and licensed limo drivers will make sure you get what you paid for. Burr Ridge IL to Chicago car service is a popular route for residents when they attend events in the Loop. We also have cheap limo service when you pay cash. For leisure or business, whenever you need  transportation to and from Burr Ridge IL, our Burr Ridge car service will exceed all your ground transportation needs.
Limo To O'Hare / Limo To Midway
If you are looking for limo to airport, you are at the right place. We provide the best Chicago airport transfers to and from Burr Ridge, IL. Residents and guests use both our O'Hare limo service and Midway limo service. Our airport limos are up to date and our chauffeurs go through extensive background checks. The Burr Ridge airport limo service is affordable, reliable and safe. Enjoy variety of sedans, SUVs, Stretch limos and Vans for your next limo service to and from Burr Ridge.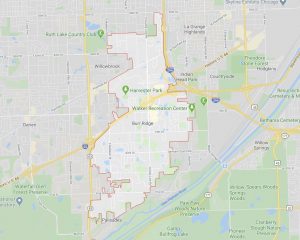 Besides the airport transfers to O'Hare and Midway airports, clients can also reserve hourly limo service  point-to-point trips.  Book your next trip to and from Burr Ridge and you will see the difference. Chief Chicago Limo service is the best limousine service in Burr Ridge.
Burr Ridge To Chicago Limousine And Car Service
Enjoy our luxury transportation from Burr Ridge to Chicago. Having a night out, going to a concert or a sports game- we got you covered. Use our limousine and car service to Chicago and enjoy the moment or impress your business partners. We offer limos by the hour if you are jumping from one place to another or decide to change your mind and leave earlier. Chicago is a busy city. Leave the driving to us and travel stress-free.
Distance, Travel Time And Limo Rates
Burr Ridge IL is 20 miles from O'Hare airport (ORD) and Downtown Chicago, and 13 miles from Midway airport (MDW). The ride is usually less than 30 minutes but rush our and road closures can change that. Our limo prices vary and the best way to get an exact quote is to fill out our booking tool . Whatever you see, is whatever you pay, unless you change the route, or you do extra stops. Gratuity is included in our limo rates. However, if you think your chauffeur exceeded your expectations, you are more than welcome to leave him/her some more.
About Burr Ridge IL

Burr Ridge occupies two counties- Cook and DuPage county and is among the richest towns in Illinois. The town name comes from burr oaks trees on a ridge. In the late 60s, Chicago mayor Richard J Daley did a proposal to build a low-income subsidized housing on the prison farm in Burr Ridge, but the Republican -dominated DuPage County stood up against the idea. Republicans won with their alternative idea which lead to the creation of the gated community of wealthy homes we know today.
Although its privacy, there are many things to do in Burr Ridge. You can shop at the Burr Ridge Village Center, which is an upscale mixed-use lifestyle shopping center. It has a wide range of brand name fashion shops and is conveniently located just south of I-55 on County Line Road. Explore the outdoors in Burr Ridge. The Harvester Park is a 37 acre site consisting of 17 acres of wetlands. The 10,000 square foot Burr Ridge Community Center is build on that land. You can find many other different playgrounds on the park's territory, which all feature modern equipment and diverse creative play opportunities.
Why Choose Us
Chief Chicago Limo is a top rated Chicago limousine and car service company which covers O`Hare and Midway airports, Chicago`s private airports, parts of Wisconsin, Indiana and Michigan. Besides Burr Ridge, our signature transportation services reach the farthest parts of the entire state of Illinois.
High quality of limo service is our specialty. We work hard to meet your demands and exceed your expectations.
The affordable rates on our limo rentals will save you some money.
Our easy-to-book online tool is our biggest advantage. You can book quick and avoid errors. Save yourself lengthy calls, spelling and repeating.
We are looking forward to having you on board again!