Click Here For Instant Michigan City Limo Rental Rates Or Fill Out The Form Below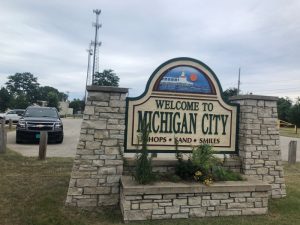 Clients can now book online our Limo Service Michigan City Indiana to travel to and from O'Hare airport, Midway and Downtown Chicago. We are available 24/7, 7 days a week. Experience our top rated Chicago black car service. Reserve our professional ground transportation services. Pay affordable rates. People who travel to and from Michigan City, IN, do not have many options to choose from. Taxis and ride share are not always available. Therefore, Chief Chicago Limo created this route and we guarantee reliability and luxury.
Get an instant quote and book our limo service Michigan City Indiana by filling out the booking tool below. Plug in your trip details and click "Select Vehicle". Save time, headaches, possible errors and money by booking yourself.
Michigan City To O'Hare Limo Service
Michigan City is part of our Northwest Indiana limo service to O'Hare. It's not easy to find limo drivers for hire in Michigan City Indiana and that's why many people prefer to prearrange airport transportation in advance. Book online your airport transfer with us. We got the rest. A member of our staff will review your reservation and if everything looks good, will email you the confirmation.
A few hours before your trip, we will text you your ride details. Your chauffeur will update you on its status. We will assist you with luggage and open doors for you. Travel in style and luxury. Pay budget-friendly rates. For a limo service from O'Hare to Michigan City, IN, we track your flight. No matter if your planes lands late, or arrives earlier, we are always on time. As soon as you land, your limo driver will send you a text with further instructions.
We also offer a Meet and Greet upgrade, where you will be met inside the terminals with your name on a sign. That's a great way to travel for executives or people not familiar with O'hare airport. Chief Chicago Limo has the best O'Hare limousine service on the market.
Limo To Midway From Michigan City
Book our reliable transportation to Midway airport from Northwest Indiana. Avoid taxis and save some money with us. A limo to Midway from Michigan City is only a few clicks away. Remember, we are always on there and always on time. Very early morning or late evening pick up times are not a problem for us. We keep an eye on our chauffeurs to make sure no surprises take place. Give us a try and book your next Midway airport limo service with Chief Chicago Limo.
Chicago To Michigan City, IN, Car Service
Besides our Chicago airport limo service, you can also book hourly limo service or the point-to-point car service. That's when you need a shuttle or a limo between Michigan City, Indiana and Chicago. Chief Chicago Limo will be very happy to drive you to your business meeting or special event. We can accommodate up to 13 passengers in a single vehicle. Do not hesitate to book with us your trip to and from Chicago.
How Much Does It Cost?
All our rates are all inclusive and final, unless you change the course of the trip. A limo service from Michigan City Indiana to O'Hare airport starts from $154. That's a cash rate for sedan. SUV will be $172. If you decide to pay with credit card, your Michigan City limo rental will be $177 and $200 respectively. Stretch limousines and Sprinter vans will be more. A limo to Midway airport from Michigan City will have different rates. Same for a car service to Chicago.
As you can see, the rate varies based on distance, type of vehicle, payment method. Chief Chicago Limo covers thousands of routes to and from Michigan City, Indiana. That makes it impossible to list all their rates on this page.
To get an instant and exact quote on your Michigan City, IN, limo service, fill out the booking tool above. Investing in technology allowed us to give you better rates. On the other hand, we have more time controlling operations and focusing on the high quality of our services.
About Michigan City – Part Of The Key West Of The Midwest
We like to joke around and call the area starting from Michigan City and going northeast along Lake Michigan, the Key West of the Midwest. If you have been there, you will know what we mean by that. The lake, with its dunes gives you that ocean feel you are somewhere on the Caribbean. The colorful beach houses and their architecture makes you feel cozy and takes your stress away. You quickly forget that the noisy, busy city of Chicago is only 1 hour away.
Michigan City, Indiana has it all. It's a great getaway for family and friends. You can go to the beach, visit the zoo, check the train museum, dine, shop, do some water sports. The Lighthouse and the Barker mansion are some of the must see places. All that makes it a busy tourism destination during the summer months.
Why Book With Us?
Chief Chicago Limo is a top rated Chicago limousine service company. Clients have left us hundreds of 5-star reviews on the web and we have won TripAdvisor's traveler's choice award for second year in a row. Our limo service Michigan City Indiana is easy to book online. You get to travel in luxury and style at affordable rates.
We also provide limo service to Benton Harbor, South Haven, New Buffalo in Michigan and any other city along lake Michigan.
Chief Chicago Limo is looking forward to driving you soon!