MIlwaukee Car Service To Chicago Rates
Clients can now enjoy our reliable and budget-friendly Milwaukee car service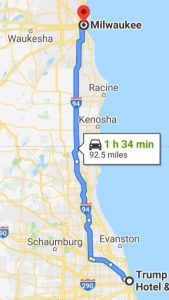 to Chicago, O'Hare airport and Midway. Travel in style and comfort in our new luxury fleet driven by our professional and friendly chauffeurs.
Chief Chicago Limo is now serving the state of Wisconsin.  Our limo service from Milwaukee to Chicago is available 24/7, 7 days a week. That's a very popular route and demand keeps on growing.However, we only execute trips between Wisconsin and Illinois.
Nobody can beat the sedan and suvs limo rental rates. Book online our Chicago Wisconsin limo service . Fill out the form below to get instant rates on our Milwaukee Chicago Limousine and Car Service. Scroll down the page to read more about what we have to offer.
Milwaukee Car Service To O'Hare
Chief Chicago Limo specializes in airport transfers to and from O'Hare airport, Midway and all FBOs in the area. Our Milwaukee car service to O'Hare is affordable and reliable.
O'Hare International Airport (ORD) is among the busiest airports in the world. With such large stream of people and flights, getting in and out of the airport might be a pain to some. However, that's not the case with us. Throughout the years, we have found a way to make your transfer as easy as possible. Book online your limo to O'Hare and leave the rest to us.
After we receive your reservation, we will review it and if everything looks good, we will email you a confirmation. On the day of your pick up you will receive a text with your ride's details. Your chauffeur will let you know when he/she is on the way. By doing so, you will be at peace that we are moving on schedule. For your car service from O'Hare to Milwaukee we track your flight and adjust accordingly.As you as you land, you will receive a text with further instructions for a smooth pick up.
If you are not comfortable with curbside pick ups, upgrade to Meet and Greet service. Your driver will wait for you inside the terminal with your name on a sign. He/she will help you with luggage and walk you to your car. From the parking lot you will head straight to Milwaukee. Stop looking for a car service from Milwaukee to O'Hare airport and book with us.
Limo service From Milwaukee to Chicago
There are many reasons you might need a Limo from Milwaukee to Chicago. Business meeting, special occasion, concert, sports games or theater play- Chicago has something for everyone. our Chicago limo rentals will move you from Wisconsin to the Loop on time. Arrive in style and comfort to your event. Have all the privacy you need. Our chauffeurs do not speak unless they are spoken to. Whatever they hear, stays in the vehicle. Rest or focus on your agenda in our car service from Milwaukee to Chicago.
The perfect way to book our Chicago- Milwaukee limos is to select service type point-to-point. If you need the vehicle to stay with , let us know and we will add discounted hourly fees for that period. Book online our car service Chicago to Milwaukee.
How Much Does It Cost
$160 is the lowest rate of our Milwaukee car service. That's a cash rate for a sedan car service from Milwaukee to O'Hare. $190 is to Chicago and $240 is to Midway airport. As you can see rates vary based on distance, vehicle and payment type. For exact rates, fill out the booking form above.
Promo Code: type  "Milwaukee" in the comment section of your online reservation and we will grant the rates above. We have unbeatable rates for sedans and suvs for those who do not need to expense the car service cost. Text us at +18474544183 for more details.
What Are your Cars



We have a large fleet of vehicles that you can choose from depending on your taste and needs. There are glamorous stretch limos, luxury sedans, spacious  SUVs and 13 passenger vans. All cars are latest models, black with black leather interior. Our sedans are Cadillac XTS, Lincoln MKT and Continental. We carry all the full-size American suvs. Rides between Milwaukee and Chicago are always available. Just give us enough time in advance. Prearrange with us.
Why Book With Us
We understand and respect your decision in choosing the right transportation for yourself. However, if you are looking for a reliable, luxury and low-cost limo service from Chicago to Milwaukee-that's us. Technology allows us to give you the best rates for a high quality of service. You book, we drive. Your online booking can save you lots of time and headache. In addition to that, it will help us focus more on delivering the service you expect. It's a win-win situation. Some of our happy clients have left us hundreds of 5-star reviews online. We will ask you to do the same.
Besides the limousine and car service between Chicago and Milwaukee, we cover the whole state of Wisconsin. Your trip has to either start or end in the Chicago area. Even if your city is not on our web page, our tool can still generate a quote for you.
Chief Chicago Limo is looking forward to driving from Milwaukee to Chicago soon!