Click Here For Instant Rates Or Fill Out The Form Below
Gilberts IL Limo And Car Service
Clients can now book online our Gilberts limousine and car service to safely travel to and from Chicago airports. We provide reliable suburbs limo service. It's hard to find a taxi or public transportation outside the urban area. We make sure residents and guest of Gilberts IL have something to rely on. With us, car and limo services in Gilberts IL are available 24/7, 7 days a week.
Gilberts To O'Hare Limo Service

Chicago Airport transfers is our specialty and no one does them better than us. We ensure your Gilberts limousine service to O'Hare and Midway airport will be on time for your pick up. Your will be even minutes earlier on location. Chauffeur will keep you posted about the status of your ride. Thus, you will know we are running as scheduled and you will have nothing to worry about. We track your flight and we know if you are arriving early or late. As soon as you land our chauffeur will text you with further instructions about your pick up.   You cannot go wrong with our airport limousine service.
Gilberts To Chicago Car Service
Besides a limo to O'Hare or Midway, clients can now book our black car service to Chicago. Enjoy your special event or be on time for business meeting with us. Our chauffeurs know their way around and will choose the best route from Gilberts IL to Chicago. We have two options for you when you are traveling to and from Chicago. One is the point-to-point limo service which is suitable for those who know the exact pick up times. On the other hand, if you may leave earlier or stay longer, or like to move from place to place, our hourly limo service is your best bet.
Either way, your ride is set and we will take care of you.
How Much And How To Book
Our Gilberts IL Limousine and car service starts from $70. That's a cash rate for a sedan to O'Hare airport. As you can see rates vary based on payment and vehicle type and PU and DO address.  For exact rates fill out the booking form below. You can create an account and book your next ride in less than a minute.
Type in GILBERTSIL in the comment section of your online booking and we will discount your ride with 10% from the rate shown.
Below is an example of how our booking tool works and rates from O'Hare airport to a randomly chosen address in Gilberts IL.
How To Book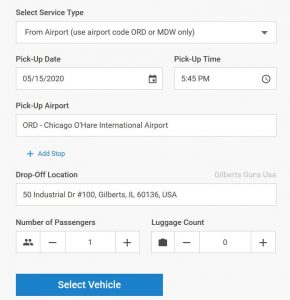 Cash Rates for Gilberts To O'Hare Limo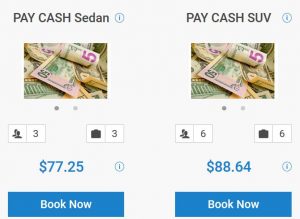 Credit Card Rates for Gilberts To O'Hare Limo
About Gilberts IL
Gilberts IL is a village northwest of Chicago. It is around 32 miles from O'Hare airport, 56 from Midway airport and 45 miles from Downtown Chicago. It's a quiet community and perfect place to raise family. It has lots of parks and outdoor activities. The village population keeps on growing which increases the need for ground transportation to and from Gilberts IL.
Why Book With Us
Chief Chicago Limo created the Gilberts IL limo service for those who need reliable and budget-friendly  transportation to and from the area. Our Gilberts limo rates are affordable and competitive. We are located in Chicago but our limousine service goes wherever you need it. Travel for business or leisure, you will get the same excellent service from us. We have hundreds of 5-satr reviews and some of the best chauffeurs in the industry.
Chief Chicago Limo believes in excellence and we have the latest models black cars. We offer sedans, suvs, stretch limos and vans to meet all your ground transportation needs. We have years of experience moving people from point A to point B.
If you need to be any place else, we got you covered. We provide reliable transportation to and from Algonquin, West Dundee, Huntley and all cities around Gilberts IL. Chief Chicago Limo covers the whole state of Illinois. You can also book our long distance limo service for out-of-state trips.
We are looking forward to driving you soon!