Click Here For Instant Rates Or Fill Out The Form Below
SUV Limo Service
Our SUV limo service Chicago is the modern way to travel. Slowly, suvs took over the business. Now they are the most popular vehicle used for ground transportation in Chicago. Noticeably, most of the black limos on the road are suvs. We, at Chief Chicago Limo, closely observe the industry trends in order to stay competitive. The majority of our fleet today consists of sports utility vehicles.
More and more clients nowadays like to ride in bigger cars. Even if they can fit in a town car or sedan, some still book an suv. Go big or go home, we guess. Another reason for that might be also the affordable rates when compared to sedans. The difference between both type of vehicles is often $10 to $20.
Chief Chicago Limo offers very cheap SUV limo service compared to our competitors. For exact quote on our suv limo rentals, please fill out the booking tool below. It all starts with choosing the right Service Type, date and time. For airport limo services, type the airport code (ORD, MDW, etc), instead of trying with exact address or airport whole name. For your PU or DO address, start typing in and pick from the suggestions that pop up. Finish with passenger and luggage count and click Select Vehicle to move to the next step of the booking process.
Why Book An SUV
It's a reliable vehicle which can go through anything to safely transport you from point A to pint B. They are weather proof. Our 4×4 babies are not afraid of strong wind, heavy snow, or black ice. We know you cannot afford to be late for your flight, meeting or special event.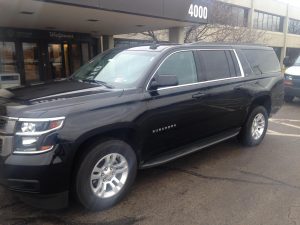 SUVs are spacious. They can fit up to 6 or 7 passengers.  It is the perfect vehicle for individuals or a small group of people who need reliable Chicago limo service. The trunk size is very popular among families going on vacation or tourists visiting Chicago. They all have huge luggage space, but so far, the largest trunk capacity is that of the Chevy Suburban. Today's sports utility vehicles are as luxury as the premium sedans. They are fully loaded with extras. On top of that our chauffeurs complete the vehicle aura with their service and care.
Budget-friendly rates make that type of car preferred by many. A few bucks more and you will ride in what the POTUS and FBI are rolling.
Airport SUV service
The SUV limo service Chicago is the perfect vehicle for a limo service to O'Hare, Midway or your private airport. It's spacious and luxury and has its own character. To further explain, by pulling in an suv creates that feeling into those around that you really mean it. That you are on top of your game and should be taken seriously. Last, but not least, the trunk size has no match. Full size American SUVs are the only ones in the world of such a size. Other countries use minivans and vans instead.
Let you airport limo rental be one of our luxury, black-on-black full size suvs. Experience the ultimate pleasure of traveling with Chief Chicago Limo. When you reserve a limo to O'hare airport or Midway, you get the best airport transfer in Chicago. We monitor your flight and adjust accordingly. Chauffeurs send you a message the moment you land to explain how to easy find your limo. Clients can also upgrade to our Meet and Greet service where you ll be met inside the arrival hall with your name on a sign.
Book now the best suv airport transfer Chicago!
Corporate Limo Service Chicago
Executives and their travel managers love our suvs. It is becoming #1 corporate vehicle. It's like the perfect match for a top level executive going on a business trip. Give the luxury and comfort your most valuable assets deserve. Arrive on time for your meeting or trade show regardless of weather conditions. Our chauffeurs will give you all the privacy you need to do your work or get some rest. The trunk space also provides enough room for business items like roll ups and boxes with promotional material. Book our SUV limo service Chicago and leave us do the rest.
How Much For

SUV Limo Rentals



Our suvs start from $75 all inclusive cash rate from Glenview Il to O'hare international airport. As you can see suv limo rentals vary based on payment method and destination. Our limo and car service covers thousands of zip codes and is impossible to list all rates here. That's why we invested in technology. You can now get a quote in less than a minute to any destination to and from Chicago. To get an exact rate on our suv limos, just fill out the booking tool above.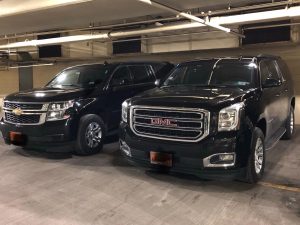 What Kind Of SUVs
Chief Chicago Limo has them all. We carry the following models: Chevrolet Suburban, Lincoln Navigator, Ford Expedition, GMC Yukon and Cadillac Escalade. All of them are full-size, 6-7 seats, all wheel drive, black leather interior and black exterior. While some of them are with captain seats, others are with a bench.
SUV Limo Service Near Me
When you search for an suv limo service near me, you will see many companies around you. However, in our industry does not mean that the closest to you is the best one. A limo service company may be based in one city, but we all go whenever and wherever you need us. For example, clients from Indianapolis prefer to ride with us to O'Hare instead of using a local Indiana limo company.
Before you place a booking, do a quick homework and research about the company. Check their reviews online. A good limo service company should have many and 5-star reviews on different platforms. Quickly stroll through their website. Check if it is looking good and friendly to use. Try to see the fleet and chauffeurs. Most important here are if the pictures are real, made by the company, or they have used stock photos. It would be better if this company can accept bookings online.
Why Book With Us
Chief Chicago Limo has years of experience in the business. Our chauffeurs are some of the best in the industry. We offer luxury vehicles at low-cost rates. It's very easy to book online.
Check our other Services and Service areas to learn more about our portfolio.
We are looking forward to driving you with our SUV Limo Service Chicago!