Bloomington IL Limo Service
You are about to experience our top rated Bloomington IL Limo Service. If you need a reliable car service to and from Bloomington, IL, you are at the right place. Some of our patrons live in the area and others are just guests. Whether you travel for leisure or for business, you will get luxury and reliable transportation. We have fleet and chauffeurs available 24/7. If you want to save even more, check our cheap Central Illinois Limo Service.
Airport Transportation Chicago To Bloomington IL
Even though it has its own Central Illinois Regional Airport, most people like the convenience and comfort of a limo service to O'Hare airport. With our car service to ORD, you will save time and money. If you need a ride to Midway, book our MDW airport limo. Our chauffeurs track your flight and they know in advance whether your plane is going to be late or not. As soon as they meet you at the airport, they will assists you with luggage and open doors for you. If you are not familiar with the Chicago airports, you can book a Meet and Greet service. In this case, your driver will wait for you inside the terminals with your name on a sign. Trust us with your next Chicago airport transfer. We are simply the best.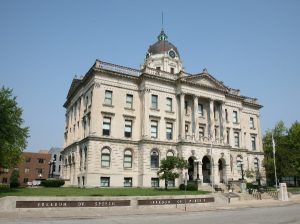 Bloomington Limo Service To Chicago
Our Bloomington limo service can provide you with quick and safe transportation to any Chicago hotel, office, sports or music event. If you are having a round trip the same day, we can come up with very good rate for you. Our limo service can easily be tailored to your needs, so you don't waste a single dollar. You can trust us to transport your executives, clients and employees. We will provide them with a premium limo service and treat them just as you would.
Distance, Driving Time And Prices To Bloomington IL
Bloomington IL is around 130 miles from O'Hare airport, Midway and Chicago Downtown. The ride is pretty nice and smooth since it's only highway. Travel time is 2.5 hours tops under normal conditions. During rush hour and bad weather your ETA may increase significantly. That's why you should plan the trip well and leave enough time for yourself.
Prices very among the different vehicle models and the DO or PU address in Bloomington. For exact quote, scroll up and fill out the booking tool, or text us at +18474544183.
About Bloomington IL
Bloomington is a city in Central Illinois. It's a major college town in the area. Steak' N' Shake restaurants started in Bloomington. The city has 4-5 great golf courses. If you have sufficient time, you should definitely enjoy the Miller Park Zoo that was built over a century ago. A must see is the historical David Davis Mansion.
One of the most popular sports events in this part of Chicago is Midwest Nationals Wrestling Tournament. It is held every year in Bloomington at Illinois Wesleyan University and brings together athletes, their families and supporters from all over the country. If you are planning to be there you can call us and we will cover all your travel needs, be it for one person or an entire team. For more info about Bloomington IL, check its official website:
Why Chief Chicago Limo
Because we have hundreds of 5-star reviews online. Also, our online booking tool is very easy to navigate and you can make a reservation in less than a minute. If you create an account, you will be able to book for others, save names and addresses, store credit cards, modify and cancel reservations. It will save you time and errors. Through implementing technology, we can focus more on delivering a high quality customer service.
We might be a Chicago limo company, but as you can see we cover hundreds of miles area. Besides the Bloomington IL Limo Service, we will drive to and from any place, as long as the PU or DO point is in Chicago.
Trust us with your next ride and you will not be sorry!