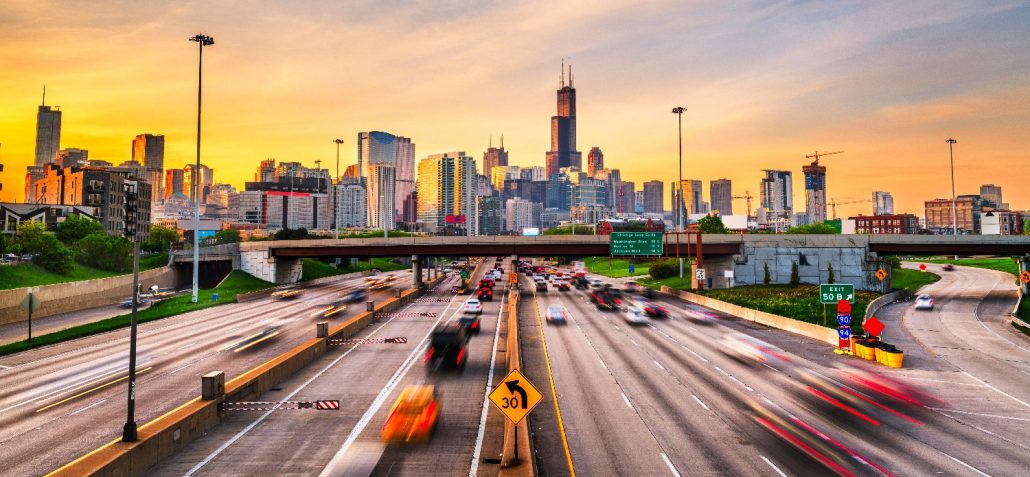 Chief Chicago Limo is a local transportation company offering limo services and drivers in the Chicagoland area and beyond. As long as the journey starts or ends in Chicago, our team is ready to accommodate you and offer you an experience that takes private car services to the next level. Our services include airport pickup and drop-off to Chicago airports (O'Hare airport, Midway airport, and private airports), driver services for business trips and meetings, transportation between Downtown Chicago and the suburbs, party and event hire, and more.
Our goal is to provide safe and punctual transportation with a friendly driver who will transform a simple ride into a luxury experience, fully customized to your liking. Thanks to our diverse fleet of cars and team of qualified drivers, we can turn your ride into the experience that you desire – whether that be a quiet and relaxing ride after a long day of business affairs, a memorable ride into the city for a special occasion with your loved one, or a party limo for you and your friends on a big day.
Chicago O'Hare Airport Limo Services
Chief Chicago Limo is best known for its Chicago airport limo services, one of our most requested routes. With these services, our drivers can take you from Chicago or the suburbs to any of the local airports, or pick you up when you fly in and take you where you want to go.
With our airport car services, you can benefit from a pleasant and stress-free experience, including:
Simplified logistics: Your driver communicates with you about updates. Also we offer curbside pickups and meet and greet;
Relaxation: Our company takes on the burdens so that you don't have to – we will make sure to get you where you are going safely and on-time, while you sit back and relax; and enjoy the ride.
Comfort: Our black cars feature the latest models and you have the possibility of choosing your vehicle, ensuring you maximal comfort during your journey.
We also offer limo services for private flights and airports, where we can take you and meet you straight on the tarmac.
Executive Limo Services for Business Meetings and Travel
Whatever your business needs, our Chicago limo company is ready to assist. Our range of services for businesses includes:
Transportation to and from meetings,
Business travel driving (to/from airport, hotel, etc),
Full-day driving, hourly rates and more.
Long distance limousine service to wherever you need to travel
We also offer armed security escort and bodyguard services for celebrities, CEOs and VIPs
When a service is requested for business motives, we take special care to accommodate to your company's requests and ensure that our services are professional, efficient, on-time, and reliable.
Parties, Events, and Special Occasions
Aside from corporate clients and personal driving, we also offer party limo services for all different sorts of special occasions, like:
Weddings,
Proms,
Concerts,
Graduations,
Sweet 16's and quinceaneras,
Birthday parties,
Sporting events,
Private parties and events,
And more!
For parties and special events, we have specific limousines that are best suited for party packages to accommodate you and your group, as well as drivers who know how to set the tone for your special occasion.
We also offer special rates for large groups requesting multiple cars for an event – get in touch to see what we can offer.
Private Limousine and Chauffeur Rental
Whatever your need for a limousine may be, we've got you covered. Aside from corporate needs, airport shuttles, and parties, our chauffeurs are ready to take you around town for whatever you may need.
Premium Limousine Service
There is a reason why our Chicago limo company is top rated: as a company started by a local limousine driver himself, we know the ins and outs of limousine transportation and also have complete knowledge about the area, allowing us to provide better service than the competition. Over the years, we have built up our company and our reputation and perfected every facet of the process:
Competitive rates and packages: We offer pre-set routes, packages with hour/day rates, and also customized services. Check our cash rates to save $$ on your next trip.
Quality customer service: We have built our reputation on our outstanding customer service, and are here to help. With us, you will get to speak to someone whenever you need and make special requests pre- and post-service. During your ride, you will get a friendly chauffeur who offers superior service.
24/7 limo reservations: With our online booking system, securing your transportation is easy. Self bookings in under 2 minutes, get an online quote in under 20 seconds.
Professional drivers: All our drivers are highly qualified and experienced, and get regular screenings to ensure that they comply with rules and regulations. Additionally, our team loves what they do and strives to make each ride a superior experience for the client.
Luxurious rides and experiences: Our diverse fleet of luxury limousines all feature black exteriors, black leather interiors, and are the latest makes and models on the market. Amenities and services offered during your travel will heighten your experience and make it feel like true luxury.
Booking with Chief Chicago Limo
When you book with us, you can expect a simple and easy process that allows you to customize your trip from the start. To get started, head to our booking page here. There, you will be able to pick your service type, date and time, and fill out other information.
We guarantee that you will have the best limo service when you entrust us with your driving needs. Our team cannot wait to take you wherever you need to travel.