Click Here For Instant McHenry Limo Service Rates Or Fill Out The Form Below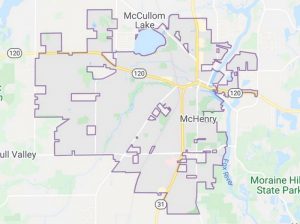 Clients can now book online our McHenry Limo service to travel between O'Hare airport, Midway and Chicago. Chief Chicago Limo provides reliable, luxury and budget-friendly black car service to and from this beautiful suburb. That route is part of our Chicago suburbs limo service. You can also explore our limo service McHenry County IL to get a ride to and from Huntley, Algonquin, Crystal Lake, Woodstock, Marengo, Union, Wonder Lake, Harvard and Richmond. Travel in style and comfort with our up-to-date fleet and professional chauffeurs.
We know it's not easy to find reliable taxis and ride share that far away. Therefore, you can prearrange your McHenry Limo with us and get the stress out of your system. No matter how early or late you schedule your ride, we are always on time. We are available 24/7, 7 days a week.
Get exact McHenry limo rates simply by filling out the booking tool below. Select the proper "Service Type" and type in your trip details. When you are done, click on "Select Vehicle" and you will see all your options. Our online quote process will take you 30 seconds compared to 4-5 minutes over the phone with other McHenry county limo service.
Placing a booking is also quicker with us. Account holders can even reserve in less than a minute. They can save addresses, names, payment types and book for others. When you draw the line, you can save yourself at least 20 minutes, avoid headache from lengthy phone calls and possible errors. Let's get booking your limo McHenry IL.
McHenry Limo To O'hare
Chief Chicago Limo has the one of the best airport transfers in Chicago. Our limo service from McHenry IL to O'hare is the best airport transportation you can get in the area. We have never left anyone stranded so far and you will not be the first one. We do wake up calls to our chauffeurs for early morning pick ups and track them through a GPS system. This way we know if everything is going as planned.
A few hours before your pick up, we will text you your ride's details and when your chauffeur is on the way. By doing that, you will be at peace that nothing can go wrong. We monitor current traffic and most of the time we have back up plan. Limo service McHenry to O'Hare made simple. On your way back from the airport, we track your flight and adjust accordingly. As soon as you land, your limo driver will text you with further details. Getting in and out of ORD might be stressful, but not with us. We have come up with the most efficient pick ups from the Chicago airports. Book your McHenry limo to O'Hare with us and you will not be sorry.
Limo From McHenry to Midway
Residents and guests of this suburb and the whole county can also book a limo from McHenry to Midway. It's a longer and more expensive ride, but still some patrons prefer to fly in and out from that smaller airport. Rest or focus on your agenda in our spacious limousines and leave the driving to us. Often south from ORD traffic piles up and may not feel like driving. Reserve our premium airport car service Chicago for all your transportation needs. We also service all the private FBO airport in the Chicago area.
Upgrade To Meet And Greet
For those out of town or not familiar with the airports, we offer a Meet and Greet service. When you upgrade to it, we will meet you inside the terminal with your name on a sign. Your chauffeur will help you with luggage and escort you to your vehicle. Executive assistants and corporate travel managers use it for their C-level management, employees and guests.
McHenry To Chicago Car Service
Besides airport shuttles, clients can also book our Chicago Limo Service as transportation between McHenry IL and the Loop. We can transport up to 13 passengers in a single vehicle. Our fleet consists of sedans, suvs, stretch limousines and vans. Go to your business meeting or special event with our car service. If you know your exact pick up time, use our point-to-point limo service. On the other hand, when your plans might change, our hourly car service is your best choice. If you decide to leave earlier or stay longer, your car will wait for you as long as needed.
How Much Does It Cost
A limo from McHenry Illinois to O'hare is $81. That's a cash rate for a sedan from Illinois 176, McHenry, IL, USA. SUV is $93. If you decide to pay with credit card, prices will be $96 and $115 respectively. Learn more about our cheap limo service. We have options for everyone and for every pocket size. If you live closer than the address we used above, you will pay less and vice versa. When you pick a stretch limo, your rate will be higher. The same if you go to Midway airport or Downtown Chicago instead.
Although rates vary based on many factors, we implemented technology to make your live easier. Get an exact and final rate on the hundreds of routes we serve to and from McHenry IL. Fill out the booking form above and you will see 7 options for each of your destinations. While you are booking yourself, we will have more time to keep an eye on the high quality of service and give you better rates.
About McHenry IL
McHenry IL is 42 miles from O'Hare international airport, 53 miles from the loop and 65 miles from Midway airport. It's farm town in northern Illinois. The city has lots of parks and trails. Must-visit during the summer is the Peterson Park Beach. It even has an outdoor movie theater. Breweries, live music bars and the city's 10-day Fiesta festival will keep you busy all the time.
Why Book With Us
Best limo service McHenry IL is ours. We are a premium limousine service and transportation service provider for the whole Chicago-land area. Chief Chicago Limo has hundreds of 5-star reviews online. By the way, we will ask you to leave one too after your ride with us. Professional and friendly chauffeurs will walk the extra mile to meet your expectations. Start and end your trip in our luxury and spacious limousines. Last, but not least, it's very easy to book online and pay less.
We are looking forward to driving you soon! Book your next McHenry limo with us!