Click Here For Instant Rates Or Fill Out The Form Below
Deerfield Limo Service
Clients can now book online the Deerfield Limo Service when they need luxury, reliable and affordable transportation. We offer airport limo service to and from Deerfield IL, as well as limo service to and from Chicago. Our Deerfield car service is for both the residents and many guests of the village. The area is a big business hub, with headquarters of big corporations. We have been moving executives and leisure travelers in this area for years. Our fleet is latest models vehicle and our chauffeurs are professional and friendly. The Deerfield Limo Service is available 24/7, all year long.
Rates are very reasonable and if you are want to save some more dollars, check our cheap limo service. Get instant rates when you fill out the booking tool below, or text us at +1(847)-454-4183.
Deerfield Limo To ORD, MDW, Chicago
As a transportation company that provides its premier services in the entire Chicago Metro area, we are always expanding our offer and specializing our approach in order to meet our clients increasing demands. The Deerfield Limo Service is one of our newest and best limo services. It is created with a special goal in mind, to give our customers the perfect limo service that presents the best combination of affordability and luxury.
The O'Hare Limo Service is the most popular black car service to and from Deerfield IL. Business people and residents prefer ORD airport which is very close and covers many destinations. Book a Deerfield limo to the airport and leave driving to us. We are always on time, we track your flight and adjust to delays. Our chauffeurs communicate with you before and during your pick up. This way you know that your are in safe hands and can focus your mind on something else.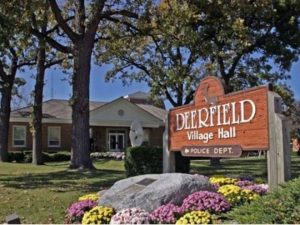 Book our Deerfield Limousine Service to Chicago when you have an important business meeting or special event to go to. Traffic can be rough going to the city and a trip can be up to 1.5 hours on a busy day. You don't want to drive. Rest, focus on your business or call your loved ones, while we do the driving. Arrive in style and comfort to your destination in Chicago. Now, enjoy the moment knowing you have scheduled a pick up on your way back. If your schedule changes and you jump from one place to another, or you might want to leave earlier, we recommend our Hourly limo service. The car is always with you, whenever you need it.
Clients also reserve our Midway airport limo service. Though Midway is a bit far from Deerfield IL, there are still true patrons to Midway airport.
Rates, Distance and Travel Time
Our Deerfield Limo Service starts from $65. Rates are all inclusive. However, they vary based on your exact address, destination, and vehicle type. Also, there is a big difference if you will pay cash or with credit card. For exact quotes, please fill out the booking tool above, or text us at +1(847)-454-4183.
Deerfield IL is 17 miles from O'Hare airport or 20 minutes drive time. Midway airport is 45 miles away via I294 South or 55 minutes drive time. Downtown Chicago is 27 miles away which is around 40 minutes ride. These are times during normal, light traffic. Have in mind that during busy times and rush hour time can significantly increase. Especially for limo service to Midway and limo service to Chicago.
About Deerfield IL
Deerfield IL is part of Chicago's North Shore and is one of the best places to live in Illinois. It has a pretty big shopping district that often draws shoppers from nearby cities. Deerfield also has a large number of restaurants and quality local fine dining places that you should definitely check out. Parks, trails and golf courses are some of the village's outdoor activities. With our Deerfield Limo Service, you can experience all that Deerfield has to offer. For more information about Deerfield IL, visit its official website:
Why Chief Chicago Limo
Our Deerfield Limo Service is affordable and reliable. We have put in a lot of work to ensure that our affordable prices don't sacrifice any of the aspects of our service. This means that you are guaranteed not only a luxurious service that will leave you pleased at the end of the trip, but a service that will give you a peace of mind in knowing you are always safe and in good hands.
Luxury and comfortable, each Deerfield limo is immaculate and up-to-date model.  All of our vehicles are new and are very well adept in providing you with a impeccable service that you wont forget anytime soon.
It's very easy to book online or get an instant quote. Thanks to our top of the line booking tool, you can book yourself in less than a couple of minutes while we focus on delivering high quality of service.
Chief Chicago Limo also serves Deerfield's neighbors- Arlington Heights, Buffalo Grove, Glencoe, Highland Park, Lincolnshire, Wheeling, etc. We provide limousine and car service to all Illinois suburbs. Whenever, wherever you want to go, we will drive you!
Chief Chicago Limo would be proud to drive you to and from Deerfield IL.