Click Here For Instant Rates Or Fill Out The Form Below
Barrington Limousine Service
We launched the Barrington Limousine Service to Chicago, O'Hare and Midway so you can travel in luxury and style. Latest models sedans and SUVs are available 24/7. Reserve our professional and friendly chauffeurs for your next trip. Barrington limousine service for everyone. If you would like to save some money and pay cash, check out our cheap limo service from Barrington to Chicago, ORD and MDW.
We also provide limo service to South Barrington, Barrington Hills, North Barrington and Lake Barrington. Check online our rates on black car service to and from Barrington IL and book your ride in less than a minute. Our easy-to-use booking tool will save you time on the phone and possible errors. Just fill out the form below for exact rate on the Barrington Limousine service.
Airport Limo Service Barrington IL
Use our Barrington limo and car service to O'Hare airport to start your journey in style and comfort. Our vehicles will be on time for your pick up, no matter how early or late it is. Enjoy your ride to the airport and rest or focus on your business. Book our Barrington car service to O'Hare airport which will leave you satisfied with your choice. Reserve our limo service from O'Hare on your way back. Your car will be there when you land. We track flights and adjust accordingly. Chauffeur will contact you upon landing and you will proceed with the pick up as directed.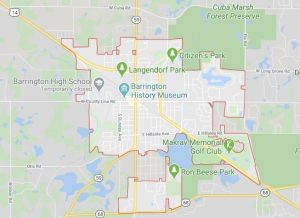 Going to Midway airport (MDW) from Barrington IL? We go there too. With our Barrington limousine service to Midway you will see how quickly time can pass in our luxurious vehicles. The same counts when you book our Barrington limo and car service from Midway airport. We make Chicago airport transportation easy and affordable.
Barrington IL To Chicago
Chief Chicago Limo offers a limousine and car service from Barrington IL Chicago. People book us for sports games, concerts, hospital visits, business meetings. Attend your special event in the Windy City by hiring our Chicago limo service. Enjoy the moment or just be on top of your business meeting. On your way back, our limos from Chicago to Barrington is only a call away. A Barrington limo service that matters- that is what we are.
Distance, Travel Time And Cost
Barrington IL is 24 miles from O'Hare. That's 30 minutes away. Midway is 47 miles or 56 minutes away. Downtown Chicago is 37 miles away and 42 minutes ride. However during rush, time can significantly increase. Driving south and southeast from ORD can be often tough.
Rates start at $70. All inclusiveThey differ according to your destination and exact address. You can get a quote by filling out the form above. Whatever you see is what you will pay. No hidden fees.
About Barrington IL
Barrington IL is a great place to live, work, and play. Barrington is an affluent village in IL that spreads into two counties-Lake and Cook. It is actually the 7th wealthiest zip code in USA. The village has spacious residential properties and many forest preserves. The village has unique architecture-one of its popular buildings is the Octagon house and the White House. For more info, check Barrington's official web site:
https://www.barrington-il.gov/
Why Chief Chicago Limo
Chief Chicago Limo offers a reliable transportation to and from Barrington IL. Our limo service Barrington is affordable. We have hundreds of 5-star reviews online on TripAdvisor and Google. You will only get luxury and comfort with us.
Besides all the Barringtons around, we also offer limo service to any location in IL from O'Hare, Midway and Downtown Chicago.
Looking forward to having you on board!