A Chicago airport pick up can be the biggest challenge in our industry. It can get really ugly. But not with Chief Chicago Limo. As a top Chicago airport transportation company, we work hard to deliver an easy pick up from ORD and MDW airports. Chicago is a huge metropolitan city and a major world transportation hub. On top of that, O'Hare international airport is one of the busiest airports in the world.
For that reason, curbside pick ups can often be very painful and stressful. Once it took us 50 minutes to get to the terminals! If you have had a long and tiring day flying, please do not get frustrated. It's not our fault- we do our best. If the driver or dispatch tells you there will be a while, there is a reason for that. That's why we will explain you what causes the chaos and the steps we take to make your Chicago airport transportation easier. Our chauffeurs are the best when it comes to easy pick ups from O'Hare and Midway airports. Follow their instructions and timely respond to their texts.
Why Do I Have To Wait For My Limo
Zero Dwell Time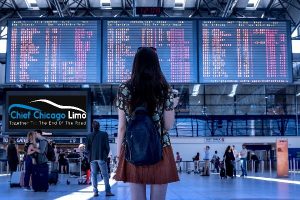 One of the reasons is that curbside wait is prohibited at the Chicago Airports. That's why you must be at the pick up spot before your vehicle arrives and often wait for it. Your Chicago airport limo rental cannot be there before you.
In 2015, as part of the Airport Security, the city of Chicago has enforced a "Zero dwell time" for the chauffeurs at the terminals. Limos are strictly prohibited from waiting at the exit doors. That means that if the limo is at the terminals before you, authorities will force the driver to leave and often issue a ticket. If that happens, your Chicago airport limo will have to circle and come back. That takes around 20 to 40 minutes and adds another airport fee and extra time charges to your rate. In addition to that, If the driver gets a ticket, we will have to add that to the cost of your Chicago airport transfer.
Limo Rentals Are Staged Far Away
Another reason is that  by law, airport limos are staged far away from the terminals. The distance is around 3.5 miles. Please allow at least 10-12 minutes for the car to arrive. On a busy day, it might be even longer. There are traffic lights and stop signs on the way.
The Idea Of Automation Failed
The automated scanners for the airport stamps also contribute to increased waiting time for your Chicago airport pick up. They often stop working and/or there are lines of cars waiting to go through. Plus, Its only 3 lanes for the domestic terminals and 1 lane for Terminal 5. When that happens only one employee from the City of Chicago is servicing all the entry points. Therefore, drivers have to wait in line to submit the airport stamp at the gates. It's a complete chaos. Only after that, they start driving towards you sharing one-lane road with the taxis.
Traffic Jam
Last, but not least, that shoot is sometimes jammed with taxis parked on the right and very tight space is left for the limos to drive by them. It's a real nightmare for the chauffeurs to get to Terminal 1. From there add few more minutes to get to Terminal 2 and Terminal 3.
The Secret For An Quick Chicago Airport Pick Up
Communication is the key to success! During your Chicago airport pick up, we eliminate the dispatcher.  That allows you to directly communicate with your limo driver. When picking up from the airport, our chauffeurs text you as soon as you land. Respond timely to their texts and follow closely their instructions. That's the only way your Chicago airport pick up goes smooth and beat the clock. Don't play smart and tell your driver that you are ready, when you are not.
If you are planning to use the bathroom or grab a coffee, do that first before you tell your driver to get in. If checking luggage, text your driver when you grab the last bag from the belt. We have to help each other!
How Do I Get Picked Up From O'Hare Airport



Your chauffeur will text you when you land and ask you if you had checked luggage. Respond right away, so we don't waste time.
If you don't have checked bags, you must tell the driver when you exit the plane. That way, car will start moving towards the pick up spot and is very likely that you both arrive there at the same time. In 10-12 minutes you will be in your limo rental.
In case you have to collect luggage, tell your chauffeur when you see your last bag rolling on the carousel. This pick up takes around 10-12 minutes on a slow day and 15+ during the busy times.
Driver will give you the meeting spot, car and plate number. He/she will update you on any hurdles along the way if the ETA is going up.
If it's too hot or cold, we will keep you inside the pick up door, till your car arrives!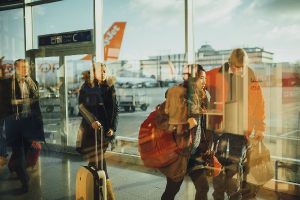 Midway Airport Arrivals Pick Up
Midway airport arrivals pick up is a bit easier than at ORD. The reason for that is that limos are staged closer to the terminals and the airport traffic at MDW is much less.
It's the same procedures and regulations as the pick ups at O'Hare international airport.
Driver will text you when you land, asking you if had checked in bags. Respond the texts right away and follow his/her instructions. By doing that, it will help us time the arrival of your car and make you wait less.
On a slow day, your airport limo rental will arrive in 5-7 minutes. If it's taking longer, your chauffeur will update you immediately.
If it's too hot or cold, we will keep you inside the pick up door, till your car arrives!
Meet And Greet Airport Services For Your Chicago Airport Pick Up



Our Meet and Greet services are an upgrade for your Chicago airport transportation.  It's ideal for foreigners, VIPs and people who get anxious with new places.
The good thing about Inside pick ups is that your chauffeur will wait for you in the arrival hall with your name on a sign and you will walk together to the car.
The bad thing is that you have to walk to the car through 3 different levels. 10-15 minutes guaranteed.  For many, that's fine, but if walking and dragging bags is not ok for you- stick with Curbside. Driver will help you of course with bags but he has only two hands or can push only one cart.
O'Hare airport Meet and Greet service- for Terminals 1,2 and 3, driver will be at the assigned baggage claim carousel to your flight, or at the information desk at Terminal 5
Midway airport Meet and Greet service- driver will be at the bottom of the escalator which is next to the restrooms
Who Has The Best Chicago Airport Pick Up
Chief Chicago Limo is a premium Chicago limousine and car service company providing safe and reliable rides throughout the Greater Chicago area, its suburbs and neighboring states. We love what we do and we do it for you! All clients are like family to us.
We have smart rates, quick online booking platform, quickest Chicago airport limo pick ups, best cars and drivers.
if you want to save a few bucks, Check our Cheap Limo Service and hop on board!
Chief Chicago Limo is looking forward to driving you soon!