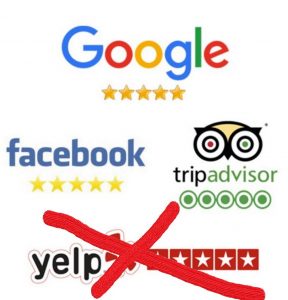 Reading Chicago limo reviews helps many travelers pick the right limousine and black car service in the Windy City. Especially, if you are out of town and not familiar with the best local ground transportation companies. However, if you rely on limo reviews, finding the top rated limo service in Chicago may require some homework.
There are hundreds of websites where clients can submit feedback and share their experience. One can find Chicago limo reviews on Facebook, Yelp, Google My Business, TripAdvisor, Manta, Yellowpages, Choice, Angie's List, Trustpilot, Better Business Bureau, Foursquare, Twitter, Superpages, etc. The list where you can find car service reviews is endless.
We, at Chief Chicago Limo, will try to show you on which review platforms to focus. Trust us, not all of them deserve your attention. In addition to that, we will touch a few major topics about reviews in general.
Should You Trust And Read Chicago Limo Reviews And Online Review Sites In General
In general, and specifically for the limousine industry, reviews are very important. Unless someone referred you to a business, the best way to go is to check clients' feedback online. The purpose of reviews is to influence consumer decisions, strengthen a company's credibility, gain customer trust, and encourage people to interact with the company. That builds a relationship between the business and its clients, leading to more sales and profits. According to a study by BrightLocal, nearly 80% of consumers trust online review sites as much as personal recommendations, and almost 75% of these say positive reviews make them trust a business more.
However, it all depends on what kind of person you are and what your expectations are. For example, older baby boomers will have less trust in online limo reviews while younger people will trust Chicago limo reviews.
Which Online Review Websites To Trust And Which To Avoid
Avoid YELP!!! We encourage clients not to leave us reviews on Yelp. The reason is, that Yelp keeps on removing reviews. Their explanation is that only active Yelpers should leave reviews. And by active, they mean people who constantly use their platform for finding businesses and leave reviews. So, even if you like our limo service and would  like to share your experience and help us grow, DO NOT do it on Yelp if you are not Yelper. Your time and review will go to waste and will not help us.
Again, avoid Yelp!!! We have been harassed by Yelp to advertise on their platform for years. After refusing to do so, they removed 10-12 limo reviews from our clients. Yelp does not really care if a customer has to find the business with the best reviews. If you pay them to advertise, they will list you on top of the search result even if you have 3.5 ratings. Those are the so called sponsored listings or the ones with "AD" ( for advertised) on the front. FYI, we are working on a project to show you that Yelp's review software does not work. Stay tuned.

Trust review websites like TripAdvisor and Google My Business Listing. There, your Chicago limo review can really make a difference and help the next traveler pick up the right black car service. TripAdvisor is the best travel website. Every year, they award the highest rated businesses with the badge Travelers' Choice Award. Those two platforms are enough if you are willing to write a limo review. In addition to that, they can really help a business grow and attract more clients.
Positive vs Negative Chicago Limo Reviews- How to Read Reviews

To find the best limousine service in Chicago you will need to read a lot of reviews. The competition is big and the feedback from clients is endless. When you are doing research, read a dozen Chicago limo reviews on several sites. Pay attention to both the positive and negative ones. Only this way, you will get a feel of the business.
There are a few things you need to know when reading reviews. A happy client is less likely to leave a review. He/she must have had a really great experience to go online and spend time writing a limo review. On the other hand,  a not satisfied person will rush to the review websites and submit a negative feedback. That means that if a business have 50 5-star reviews, it actually have 2,3 times more happy clients.
Scrutinize the negative reviews. Due to the fact that there are more positive than negative reviews, the latter will grab more of a shopper's attention. For some, negative reviews as more informative, and therefore more valuable, than positive ones because they highlight defects. Do not get biased! Find out what went wrong or if the problems mentioned are the ones you care about. Pay attention to the contextual details and specific facts.
How To Write A Good Customer Service Review?
In the end, only your actual experience will show if reviews helped you make the right choice and if the service met your expectations. Whatever the outcome, do not hesitate to share  it online. Your Chicago limo service reviews may help the next traveler. In addition to that, the business itself can use it as a benchmark and quality control.
There are a few things you need to know about how to write a review for a car service. Although no one does it, you should start with your confirmation number. That will help the business respond quicker and reach out to you, if needed. Reviews do not have to be long, unless you feel that you need to share something extraordinary or unpleasant with the world. The most important things when review Chicago limo services are to share the quality of service, driver's attitude, describe the vehicle and the ride. Communication, easiness of booking, ride updates, etc, are also things you may touch in your Chicago black car service reviews.
The easiest way to submit Chicago limo service reviews is to write one the way you would like to read one. Plain, simple and at the same time informative enough for the reader.
Are Reviews Important For Businesses
In some cases, yes. For example, Chicago limo reviews are very important for us. They are a proof we are doing a great job. We work hard to deliver a high quality service that matches the premium our clients pay. On top of that, we are a local company which relies on word of mouth recommendations and referrals. Usually smaller and mom-and-pop businesses tend to pay more attention to reviews.
In other cases, no. Some global and giant businesses are not affected from the reviews and may not even care about reviews. Look at UBER and Walmart for example. They have thousands of negative reviews online but are still in business, have loyal clientele and ring in billions of dollars. Check UBER's reviews on Sitejabber, Trustpilot, Yelp and you will be shocked.
Where Are Chief Chicago Limo Reviews
As of 11/23/2020, Chief Chicago Limo has 400+ 5-star reviews online combined. Clients have posted these on multiple platforms. However, you can read the majority of our Chicago limo reviews on TripAdvisor, Google Listing Arlington Heights and Google Listing Downtown Chicago.
In addition to that, we are TripAdvisor's second year winner of the Travelers' Choice Award. That badge is featured on all of the travel giant's websites around the world: USA, France, Italy, China, Japan, Netherlands, United Kingdom, Germany, Belgium, Greece, Israel, Columbia, Switzerland, Finland, Serbia, Russia, Hong Kong, etc.